What are the Best Bathroom Flooring Options?
Bathrooms are one of your most important rooms in the house. Your daily life is incomplete without a bathroom, no matter whether you intend to live there for a very long time or intend to sell it. Hence, it is not uncommon to see that homeowners prioritize bathroom renovations when remodeling their home, or especially when buying one.
Choosing the right flooring for your bathroom is essential. Floors set the tone for a room since they are the first thing you encounter upon entering. Selecting a style for your bathroom floor that is understated or extravagant can really transform the look.
Bathroom flooring ideas can range from stone flooring to luxury vinyl plank flooring, engineered wood floorings and so on.
When it comes to finishes, these significant spaces require special attention - in particular, the flooring. Water, of course, is at the heart of all these considerations. In the home, water can wreak havoc in any form, and the bathroom flooring often results in the most damage.
In light of this, we've compiled a list of interesting bathroom flooring ideas and some helpful suggestions about what type of floorings would be appropriate.
Carpets
Carpet in the bathroom may be old-fashioned, but there are still many people who enjoy it. Having a carpeted bathroom has the advantage of being cosy on your feet during a nighttime trip to the toilet. Smaller rooms like bathrooms can be carpeted reasonably cheaply.
Despite the price, there are many disadvantages too. The carpet in a bathroom requires considerable maintenance. Several products that are suitable for tile cleaning or linoleum cleaning cannot be used on carpets. You should avoid using carpet when selling your home since the appearance is very antiquated.
Last but not least, your carpet could grow fungus and mould if your bathroom is poorly ventilated, resulting in unsanitary conditions.
Ceramic and Porcelain Tile
A tiled bathroom is a popular choice. The most popular tile options for bathrooms are ceramic and porcelain. The characteristics of tile floorings include being durable, waterproof, having a number of colours, textures, and designs, as well as being reasonably priced.
Specifically, porcelain tiles are less water-absorbent than any other ceramic tile. Because they can handle standing water and accumulations of water, ceramic and porcelain work well as shower tiles.
Tile does have some disadvantages in the eyes of some buyers. Because of the tile's hard surface, it is often perceived as harsh or cold. Tile can be uncomfortable to stand on for long periods of time, however, add radiant flooring systems can be used to adjust the temperature of your floor. Ceramic tile is non-absorbent and easy to maintain, making it a good choice for areas that need to be kept clean, like bathrooms.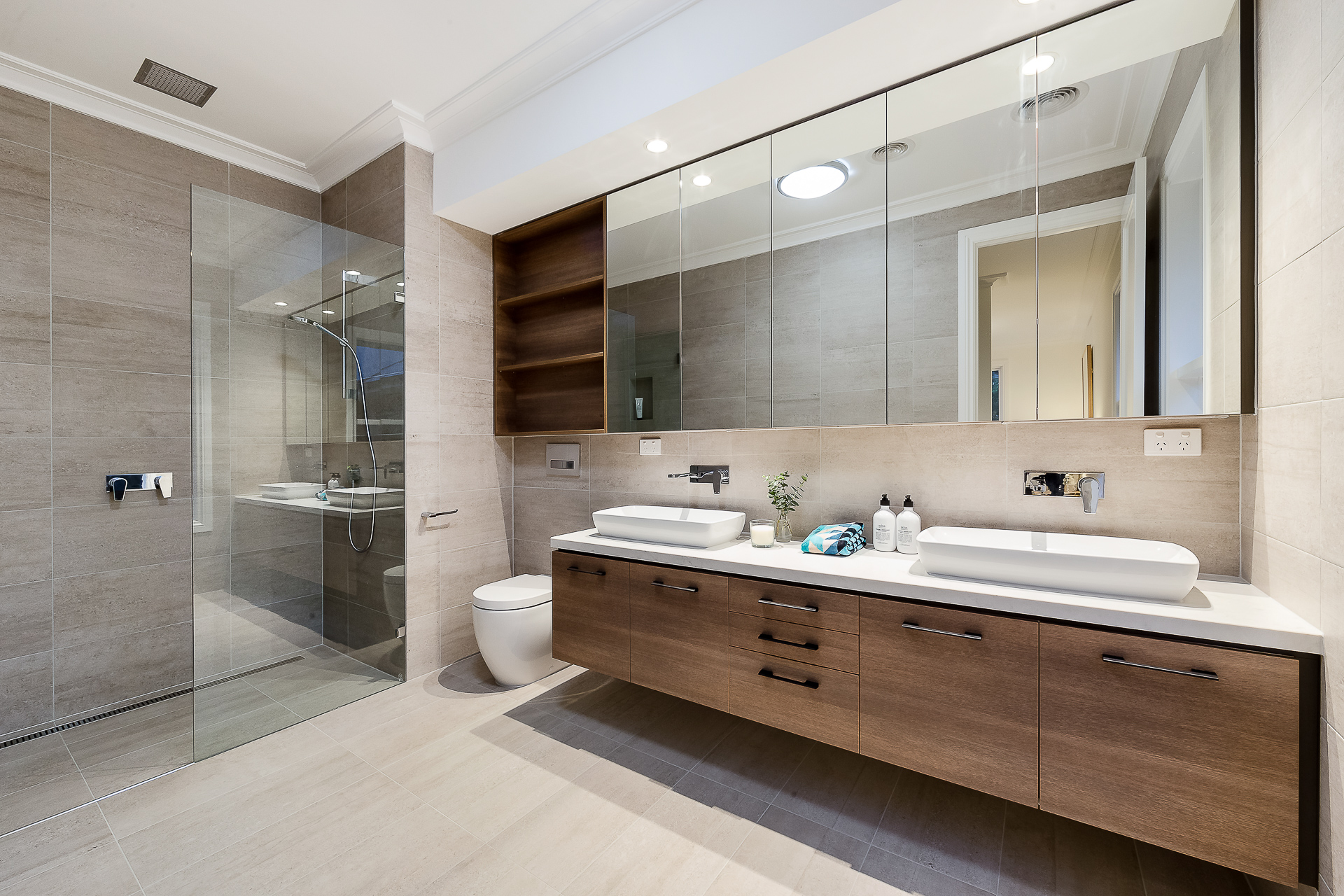 Natural Stone Tiles for the Bathroom
You can also choose natural stone tile for your bathroom flooring. Marble, quartz, and limestone are all natural stones that are suitable for use in bathrooms. The benefits of natural stone flooring are similar to those of ceramic tile flooring and porcelain tile flooring.
It has a smooth surface, is water-resistant, is available in several colours, and can also be made into tiles, slabs, or mosaics with grid backing.
As a bathroom flooring idea, stone flooring does have a few nuances to consider. Installing stone can be challenging for the installer. Please keep this in mind when attempting this project. The surface of stone can be slick, however grit designs and sealants applied afterwards can minimize the slickness. A sealant is also needed from time to time to protect the stone surface against dirt, contaminants, and moisture penetration.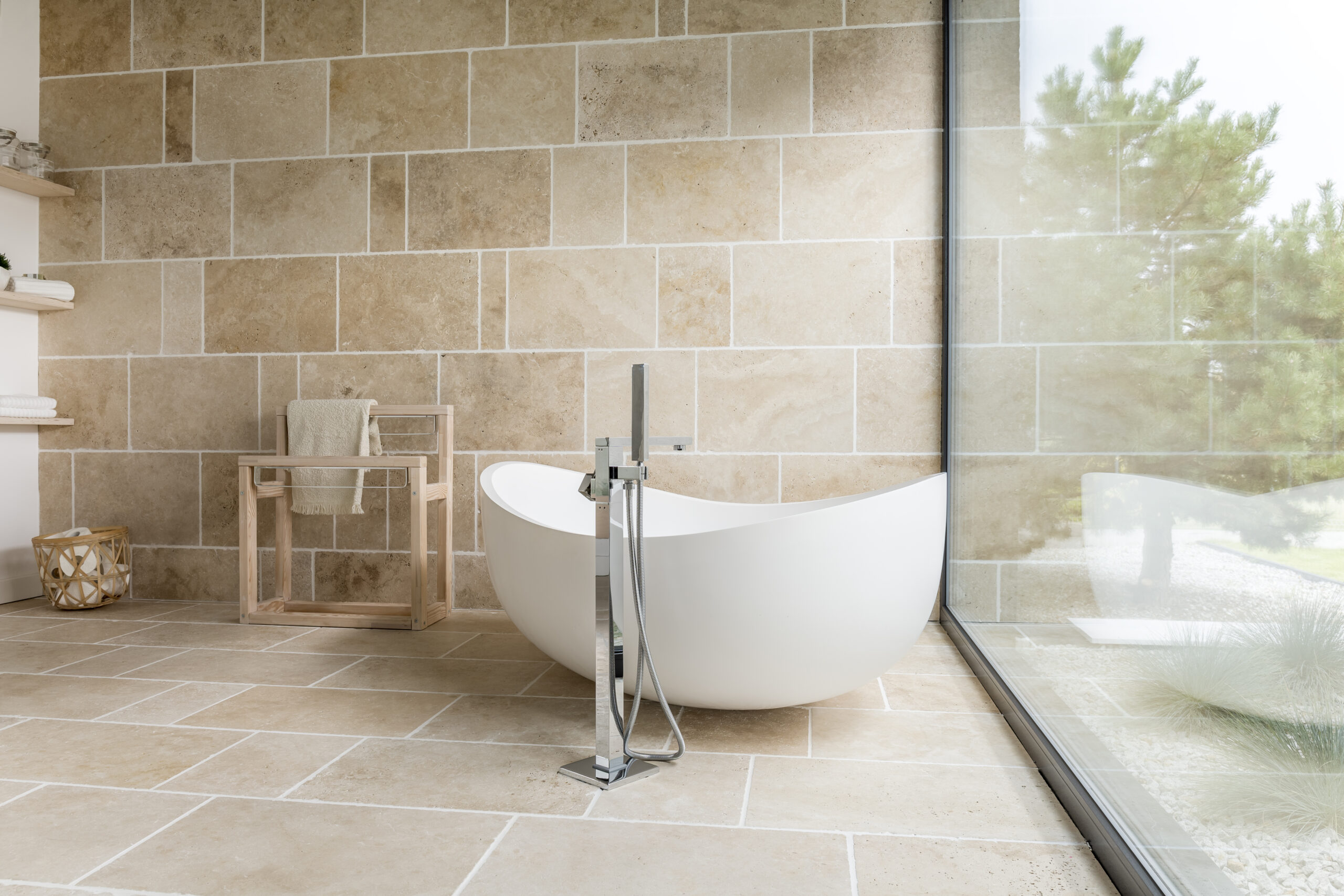 Vinyl Bathroom Flooring
Compared to other bathroom flooring options, vinyl is more affordable. Among the flooring options on the market today, vinyl flooring is quickly gaining in popularity.
Waterproofing options like WPC and SPC Vinyl are ideal for bathrooms. Many vinyl products are designed to look like hardwood, granite, and ceramic tile. Vinyl (WPC and SPC) floorings are a high-quality product with long-lasting, scratch-resistant, and stain-resistant properties.
Underfloor heating is also possible with vinyl flooring. It is easy to clean. Vinyl flooring is more durable and lasts longer if you choose a quality range. Due to its difficulty in recycling, vinyl is not an option for eco-conscious consumers.
Bamboo
Growing in popularity, bamboo floorings are a great option for people with allergies (due to its water resistance and lack of dust mite breeding grounds). In a bathroom, bamboo floorings will need to be sealed to prevent water damage.
It is possible to use bamboo as a bathroom flooring idea with underfloor heating, a cost-effective alternative to solid wood. Bamboo has some disadvantages, such as the fact that not everyone likes it, as well as its fading colour. You have to be careful not to mark or dent it with your shoes or by stumbling things on it.
Wood and Laminate
There is no doubt that wood flooring is very popular and trendy right now for homes of all sizes. The appearance and ease of cleaning of laminate and hardwood floors enable you to complement your interior design scheme. You can choose laminate flooring or wood flooring for your bathroom, but you need products designed for bathrooms that are water-resistant.
Laminate flooring is less resistant to water than other types of floorings for bathrooms. Water puddles left standing can damage laminate flooring joints. The floor should be wiped clean after standing water gets on it. Hardwood is more expensive, harder to install, and requires more effort to maintain than vinyl and ceramic tiles. In this case, the best bathroom flooring would be engineered wood flooring. Also engineered wood is highly resistant to water.
Rubber
The durability of rubber bathroom flooring is substantially greater than that of vinyl, which makes it an excellent choice for bathrooms. Rubber flooring requires little maintenance, but cleaning with strong detergents is not recommended because it can degrade and discolour rubber.
The price of rubber is higher than that of vinyl. Compared to vinyl, ceramic tile, or laminate, it is more durable and less slippery. In addition, it comes in many different patterns and colours.
Floor Coverings Local
If you're looking for bathroom flooring, you don't have to worry. There are many options available today. If you are looking for the perfect bathroom flooring, we are here to help!
Contact us for advice and help choosing the right flooring for your bathroom.