Your kitchen is a vital part of your home, one that can enhance the value of your property in a number of ways.
Consequently, you should look at how you could improve your kitchen to make it even better. Floors are an important part of an interior design, it can really transform the look and feel of the room.
They are just as essential in styling as furnishings, lighting, and wall finish. In addition to being practical, attractive, and easily maintained, kitchen floors should also be easy to clean day to day.
Choosing the right flooring for your kitchen is one of the most essential aspects of doing this right. Several options exist for accomplishing this, and it is very significant to pick the kitchen flooring that will complement and improve the room.
Among the many flooring options available for kitchens are laminate, tile, vinyl, ceramic, wooden floors etc. Let's look at them in more detail.
TILE FLOOR
Choosing tile flooring for areas with high moisture levels is a classic, durable option.
Tile can last a lifetime, or even longer, if it is installed, positioned, level, and sealed properly. Numerous consumer reports point to tiles as the most preferred flooring option in kitchens.
Since there are a few options available for kitchen floor tiles (stone tiles, porcelain tiles, natural stone tile, etc), understanding the differences between them is important before deciding which is a good fit for you.
CERAMIC TILE
Typically, ceramic isn't thought of as a flooring solution for kitchens, but maybe it should be.
Ceramic provides durability, variety, and dependability. It may be more expensive than other options, but the benefits should be considered as well. Ceramic and porcelain tiles have many similarities.
In addition, ceramic will add a beautiful touch to your kitchen floor. Ceramic tiles need little maintenance and are easy to clean.
The tiles are nearly indestructible as well. However, while it is a cold material and installation may be more challenging than some options, it definitely offers the best value if you're looking for a kitchen floor that will last for many years.
VINYL
Vinyl flooring in kitchens is a great alternative to tile or wood. You should throw away any preconceptions you may have. One of the best options available in terms of budget-friendliness is vinyl, which can be helpful for those who recently relocated and are trying to stay within their budget.
It's very simple to install, and you have many options when it comes to design and style. The resilient and easy-to-clean nature of vinyl surfaces makes them easy to maintain and keep clean. You can also opt for a luxury vinyl tile for a classy look.
It is important to keep in mind that vinyl tiles, like every material, has their downsides; in particular, it is easy to damage if you are not careful. Typically, vinyl is going to be the least expensive flooring choice when you are asked, "What is the cheapest kitchen flooring?". But you can opt for sheet vinyl which are cheaper but will not last long though.
Stained Concrete
One of the most simple and durable kitchen flooring choices is stained concrete. Since concrete has a tendency to absorb most fluids, sealing concrete makes it completely waterproof, which is a necessity.
A traditional or modern look can be selected. Many modern homes feature concrete subfloors.
To create the illusion of wood, natural stone, or even tiles, stains can be applied to concrete floors. The flooring can be slippery once completed, but you can make it less slippery with certain options.
As a result, mats may be useful in the kitchen wherever excessive moisture may occur, for instance, near the sink.
Laminate
Laminate floorings also complement kitchen environments very well. For homeowners seeking a different type of flooring for their kitchen, laminate is a very popular choice.
If you need cheap kitchen flooring, this may be the perfect choice.
It is one you find more commonly in living rooms and bedrooms. It has the same aesthetic qualities as hardwood flooring, yet is more affordable than vinyl.
They also are a good fit in the case of underfloor heating systems.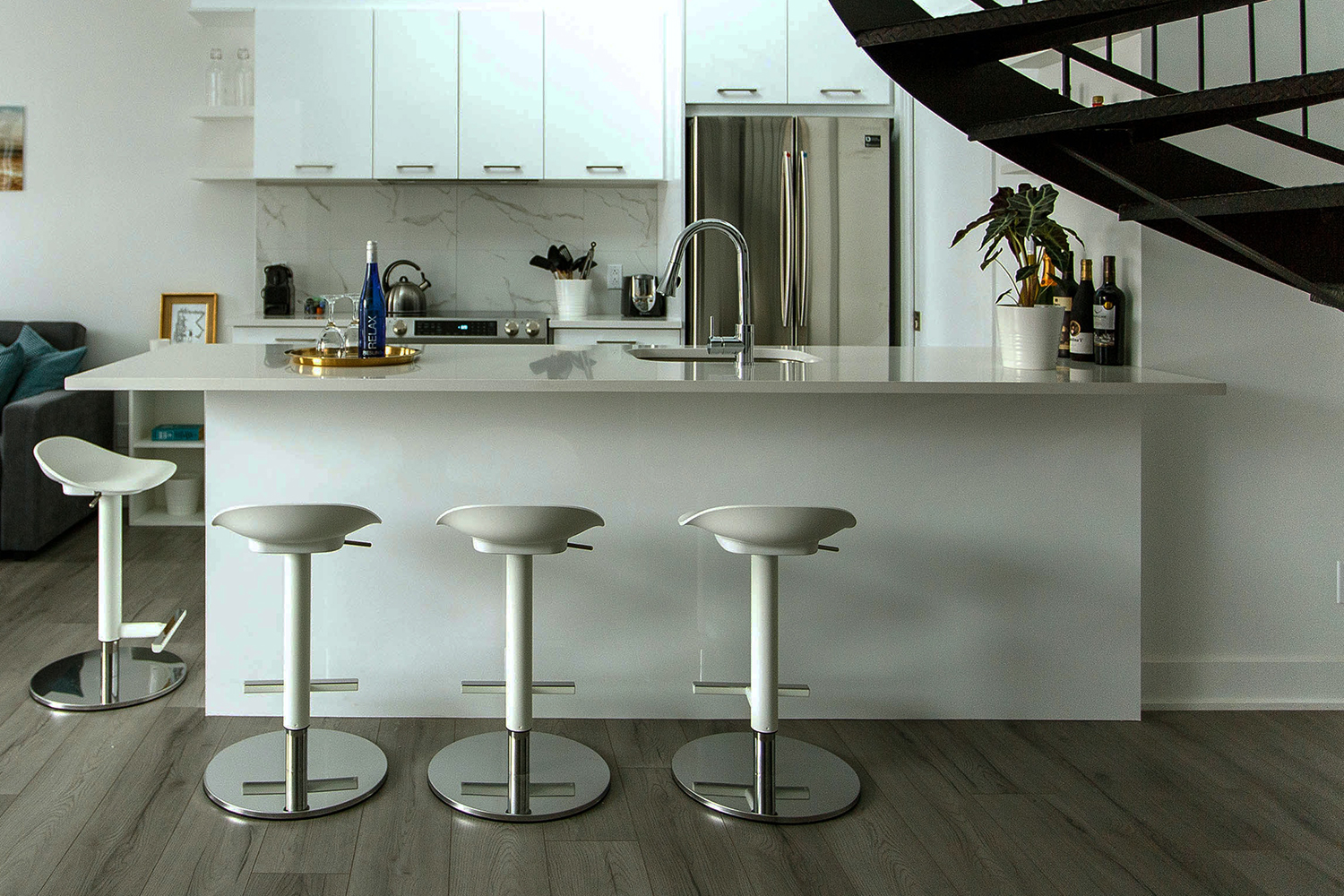 Revamping your kitchen flooring requires not only consideration of the aesthetics of the home, but also of how to save money.
Laminate floors are completely inaccessible to water. This can be a problem in a kitchen. Nevertheless, traditional laminates still have many advantages, such as their ease of installation.
Laminate floors now have similar colours and patterns to solid hardwood floor and is still one of the primary reasons to purchase them.
Hardwood
The luxury, durability, and long-term value of hardwood floor make them a favourite of homeowners. Wood provides warmth and style to your home and protects it from water damage. Flooring made of hardwood is not waterproof. If properly finished, solid wood flooring is water-resistant, but it will deteriorate over time if it is exposed to moisture.
If you spill something, you should clean it right away; laminate flooring is more resistant to moisture than wood floors. You can also choose engineered wood flooring for the wood flooring in the kitchen.
Hardwood floors are still an excellent choice for kitchens. In addition to matching the flooring throughout the home, they can be refinished to add a stylish accent to the kitchen. A hardwood floor can be slippery depending on how it is finished, but design features such as hand-scraped or textured surfaces, or wider plank widths or lengths, can improve slip resistance.
Wood can be used for underfloor heating due to its compatibility. Additionally, wood is stain-resistant and highly scratch-resistant.
Make the right choice!
Whether you are remodeling your existing kitchen or building a new one, selecting the right kitchen floor is an important decision. A kitchen floor serves as a canvas for defining, structuring, and personalizing a space. You need floors for your kitchen that are durable, appealing, and inviting.
The best flooring in a kitchen should be able to withstand the moist environment and the extra wear and tear that occurs from constant use.
If you require help and advice choosing the right flooring type for your kitchen, our experts can come to your home and go through the options with you, point out the advantages and disadvantages of each for your home use and lifestyle, and considering the important overall styling of your home and the look you are trying to create.
Contact us for more advice.