Bathroom flooring choices for your home
A bathroom floor is often the last thing you notice every day before going to bed and thus bathrooms are a very personal place, so you need flooring that suits your needs, and that you will like and love. That's why choosing the perfect bathroom flooring is essential when designing your home.
What kind of bathroom flooring should I choose? Tile or laminate? Wood or vinyl? Vinyl or ceramic tile? Hardwood or carpet? There are so many options out there, and each comes with its pros and cons.
Choosing the ideal flooring for bathrooms is based on a multitude of parameters like its appearance, moisture absorption, finish, and durability. Here are some of the great bathroom flooring ideas to consider, be it for remodelling or building a new one.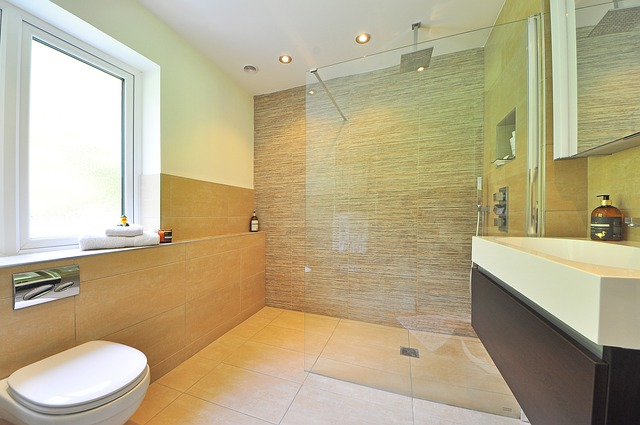 Bathroom flooring tiles
Tiles are one of the ideal choices for bathroom floors. Laying the floor with tiles brings good visual aesthetics to bathrooms and they are easy to maintain. Large-format tiles are the trend in the market these days as they create a rich and stylish look for bathrooms. Apart from this, large tiles are easier to clean and make the bathroom look bigger. It also creates a great finish for the bathroom floor with minimal grout lines. However, on the downside, large tiles are comparatively expensive and require specialized skill to lay them without breakage and an extra 10 per cent of tiles should be ordered to safeguard from breakages.
Porcelain Tile and Ceramic Tiles
Tile floors offer endless design possibilities, both traditional and modern. It is available in different styles -natural stones like marble or limestone, porcelain tiles, and ceramic tiles. Porcelain tiles are made from white clay, which makes them more expensive, while ceramic tiles are made from red, brown, or yellow clay and their water absorption capability is very high. The property of ceramic tiles to repel water makes it highly demanding. They are also durable and resistant to moisture, and they look great under the sink and around the toilet.
Patterned Bathroom Floor Tiles
Patterned tiles would definitely make your bathroom look fantastic. A lot of patterned tiles are available in the market that can create a luxurious look for your bathroom. Try using the same patterned tiles on the floor and wall to provide an uninterrupted finish and gives a larger bathroom feel! The use of atypical shapes like mosaic, octagonal and elongated tiles would also create a distinct and elegant pattern for your bathroom floors. A patterned tile is not only visually interesting but also offers a sense of texture and a sense of warmth that's missing from a plain tile.
Natural Stone Flooring
There are a wide variety of choices for natural stone flooring options like those including marble, granite, soapstone, limestone, etc. Natural stone tile is a good choice if you are looking for something durable, resilient, easy to clean, beautiful, and low maintenance. Stone flooring is also a great choice if you plan to have underfloor heating installed.
However, consider the following factors before installing natural stone as bathroom tile.
It is comparatively difficult to install.
It is more expensive than any other tiles.
Regular maintenance to prevent the absorption of moisture and penetration of dirt into the stone is required as the stones are naturally porous.
Bathroom Laminate flooring
The bathroom laminate type of flooring is the best choice for those looking for durable yet cheap flooring options. It was initially seen as a cheap alternative to real wood and is now considered one of the most durable types of bathroom flooring. A few reasons to go after laminate flooring include :
Durability: Proper installation of laminate helps them last for years.
Easy maintenance: Laminates are easier to maintain than other floor types due to the smooth nature and protective coating which most laminates have. Thus cleaning laminate flooring based bathroom should not be a worry for you!
Toughness: As laminate is made of multiple layers, it offers protection against scuffs and scratches and the laminate will not crack or split or swell easily.
Bathroom Vinyl Flooring
Available in a wide range of colours and designs, vinyl is a popular choice for people looking for a long-lasting, low-maintenance bathroom flooring solution. Vinyl tiles give your bathroom a rich look. Vinyl is tough, waterproof, and durable. Vinyl is also the perfect choice for those who want to give their bathroom a makeover without spending a fortune.
Vinyl flooring is the best choice for areas that are vulnerable to stain and moisture. Material-wise, vinyl flooring consists of polyvinyl chloride sheets bonded together into a single piece. Vinyl would not crack, or wrap over time and is highly water resistant. The thicker the vinyl, the more comfortable and higher its durability. Its ability to protect from spills and splashes makes it more preferred for waterproof flooring.
Luxury vinyl tile is also available in the market as an option for modern bathrooms. Luxury vinyl flooring is warm underfoot and offers great dimensional stability. Though made from the same material, luxury vinyl tiles are sold as thick wear layers or wood planks with semi-rigid nature. Vinyl and luxury vinyl tiles do not require regular maintenance and no professional help is required to install vinyl bathroom tiles as they can be installed easily and quickly by yourself if required.
Wood Flooring for Bathrooms
Wood and water don't mix-that is the traditional belief. But wooden flooring is a good choice for bathrooms as long as you choose engineered wood flooring rather than planks or solid wood. Engineered wood floors are made of several layers, which, makes them more stable and strong. Also, they limit the movement of the floor and reduce the possibility of warping. With proper care, it can be easy to fit engineered wooden flooring into a bathroom just as it is to fit the laminate. The key is to make sure that moisture and spills have to be cleaned frequently. Also, provide proper ventilation options. Choosing a wood floor with texture would give it an extra grip.
Bathroom Lino Flooring
Linoleum, in short lino, is made from the by-products of wood, jute, pigments, etc. Lino is popular since it is easy to clean. It is available in a wide variety of patterns and colours. Since it is made from sustainable and natural materials, Lino has grown as a great choice for bathroom flooring. It is warm underfoot and moisture resistant. The best advantage of using Lino in bathroom flooring is that it is resistant to bacterial growth. But Lino can be easily scratched.
Stained concrete
One of the most common materials for flooring is concrete which is available in a wide range of colours and designs. It resists wear and tear, is durable, cheap, and easy to install.
Stained concrete is the most popular type of concrete flooring where the concrete is treated with chemicals (stains) after laying the concrete floor. You can either lay the concrete and then apply stain on-site or you can purchase ready-made stained concrete blocks. The concrete staining option always requires expert help, but it is an inexpensive method and there is a wide range of stains available on market. Concrete stains are not waterproof, they can be slippery when wet. Also, some products can cause discolouration over time.
Do not do this flooring in your bathroom
Following are the bathroom flooring options you should not consider while remodelling your bathroom:
Carpets are difficult to clean and maintain, as they would trap bacteria and dirt. Carpets absorb moisture and create an environment for moulds to grow. This would in turn lead to respiratory distress and chances for other infections.
Hardwood bathroom flooring is not a preferred bathroom flooring choice these days. To make it work efficiently, they have to be sealed properly to avoid water damage. If not done properly, water will penetrate and will lead to moulding. Frequent re-sealing with polyurethane coating is also required to prevent moisture damage.
Frequently Asked Questions
1. Do big tiles look good in a small bathroom?
Larger tiles make the bathroom look bigger than it actually is. It gives the bathroom a rich and expensive look due to the lack of grouts. Hence, the use of larger tiles over smaller tiles in a small bathroom is a good way to deceive the eye.
2. What is the easiest bathroom flooring option to install?
Waterproof laminate bathroom flooring, vinyl flooring, and engineered wood are the easiest bathroom floor to install.
3. Which is better for bathroom vinyl or laminate?
A vinyl bathroom is a better option for modern bathrooms than laminate flooring as it is water resistant and has high durability and a longer lifespan compared to laminate.
By choosing the right bathroom flooring, depending on your needs, you can save time and money. Make sure to opt for the correct material, texture, and colour for your bathroom flooring, to make it look luxurious. There's so much more to designing a functional and stylish bathroom than just a hard surface. Take your time and create a space that's both modern and beautiful. And the best bathroom flooring choice will help you achieve that goal.